Ireland and Belfast (October 2018) with Lisa
One of my top ten bucket list destinations has long been Ireland and the opportunity finally presented itself this past October. It was an amazing week that exceeded my expectations and I can't wait to return and take in more experiences.
Of the three international airports, our arrival into Shannon was a perfect gateway to Ireland's Wild Atlantic Way which includes such sites as Bunratty Castle, and the Cliffs of Moher. Shannon Airport is also historically important as the host of the world's first duty-free shop as the first point of entry for many of the transatlantic commercial flights of early aviation history. If you're planning on exploring Limerick, Galway and points of the northeast of Ireland, this airport will save you more than two hours of drive time over an arrival into Dublin. Worth considering into your plans; arrive into Shannon and depart from Dublin leaving you more time to explore and less time backtracking. We flew into Shannon airport with Air Canada's service via Toronto.
While in Ireland we called into Limerick, Galway, Westport and in Northern Ireland we visited Belfast with stops in the County Fermanagh to explore the Marble Arch Caves UNESCO Global Geopark, enjoyed a visit to Lough Erne Resort; home to a stunning lakeside golf course designed by Sir Nick Faldo, and Enniskillen Castle.
Ireland is very compact compared to Canada so it is possible to pick two or three bases for a seven to ten-day trip, or you can pack up and move every night if you wish.
Our week away was a very busy one, taking in many sights and some unique experiences. Our itinerary was jam-packed the first day, after arriving in Shannon at 9:30 am, so they made sure we were kept on the go and no time to even consider a nap. Onto the bus, we were whisked off to Bunratty Castle and Folk Park, located in the County Clare. Shrouded by some Irish Mist (not the beverage) we explored the 15th-century castle and collection of buildings to get an impression of what life was like as the 26-acre park also features a "living" village and rural setting, including how things have changed over the centuries. This was the first of our Irish breakfasts served with steaming hot tea and milk, blood sausage and rashers of bacon and sausage to keep our energy from flagging.
Once fueled we were off to our next stop, the Foynes Flying Boat Museum, Foynes Aviation and Maritime Museum, houses much of early aviation's history, as Foynes is the original location of Shannon International airport. Their early aviation history collection and docents are well worth the trip if you are an aviation enthusiast. In addition to the aviation, this venue also offers a little peek at some of Hollywood, as Maureen O'Hara, the Irish American actress, who was the museum's patron until her passing in 2015. She took special interest in the Foynes museum as her husband, Charles Blair, flew flying boats into Foynes in the 1940s. Plans to expand the O'Hara exhibit is another underway, as the O'Hara family has donated many of her prized personal belongings and memorabilia to the museum.
It is also here where the Irish coffee was created and first served. I must admit my curiosity was piqued as I've been to the Buena Vista Café in San Francisco and they claim to be home of the world-famous Irish coffee. See, Foynes was the original Shannon airport and during very early commercial days, air travel was very weather dependent. One particular winter evening a flight had departed for the USA only to be turned back as the weather wasn't getting better and the turbulence had been pretty rough so far. The village called the restaurant staff back to look after the weary travelers after their rough flight. The chef was asked to prepare something especially warm for the travelers and was inspired to add some Irish whiskey to their coffee. As one of the travelers thanked the chef for the wonderful coffee he asked if it was Brazilian coffee. The chef teased and answered "No, it was Irish coffee!" and there it was born into infamy. A few years later, the chef was invited at San Francisco's Buena Vista Café, which he accepted, emigrated and took the Irish coffee secrets with him.
What better place to learn how to make an Irish coffee than the birthplace of the beverage. We learned the art of preparing Irish coffee, and told the secret is the cream. If you don't get the cream right, the drink is not an Irish coffee. We had great fun with this time and sampled our results.
I was stunned by the beauty of Ireland both in its landscape and its people. The shades of green are so many we lost count on day two. The diversity of the landscape was surprising to me, from the rolling hills and farms to the mountains and fjords. It is not all manicured fields, rather a fluid and eclectic mix of boundaries creating a patchwork image across the vistas. Fjords and mountains dotted with sheep, with a criss-cross of streams that meandered out of gs. Homes and structures varied from old manor homes and croft cottages as we drove along the two-lane roads that wind their way through the country.
Ireland is a country that is worth exploring. A self-drive adventure awaits, but remember the Irish drive on the other side of the road. And as a country that is richly steeped with Celtic history, many of the names are Gaelic. So, with the benefits of online mapping, plot your route to your destinations and then enjoy the ride.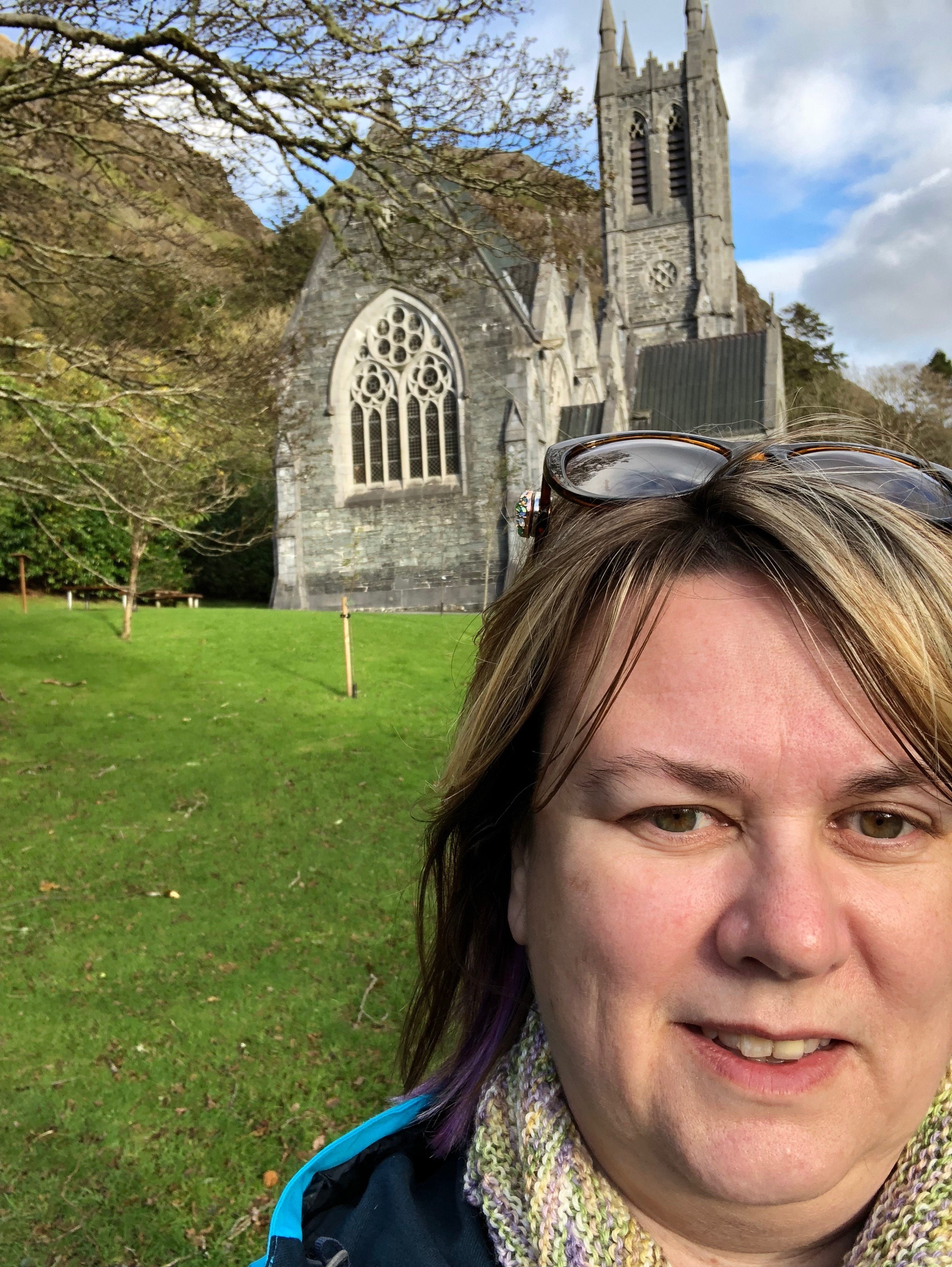 The diversity of accommodations is vast, ranging from bed and breakfasts, manor homes, castles and chain hotels. There are even opportunities to stay in croft cottages; the old stone cottages with thatched roofs that still are heated by wood-burning stoves, some supplemented by modern underfloor heating. There is something for everyone. My inner princess was treated to the opportunity to spend a night in a castle during the week.
On this trip, my favorite accommodation was Kilronan Castle Hotel & Spa, a 5-star hotel. Well-appointed with the some "modern" additions including a spa, indoor swimming pool and a fine dining restaurant, the Kilronan Castle Hotel & Spa was a fun evening and may have included an after dinner drink in the Drawing room, a lovely space hosting a large open fireplace and beautifully papered and paneled walls that was warmly welcoming, both the space and the staff. Located two and a half hours north of Shannon, or two hours west of Dublin, this 5-star hotel is set on a 40-acre estate, next to a beautiful lough.
A second hotel that I would have loved to spend a night or two was the 4-star Ballynahinch Castle. Once the home of Richard Martin aka Humanity Dick, who founded the Society for the Prevention of Cruelty to Animals, Ballynahinch Castle is backdropped by Twelve Bens Mountain range and over looks its famous salmon fishery. For those avid about the outdoors, you can take in many sporting activities including fly fishing, woodcock and clay shooting with the support of the activities director, or enjoy the hiking and cycling access into Connemara National Park. An easy drive to Galway and just two hours from Shannon, the Ballynahinch Castle is a beautiful place to recharge and unplug.
During a week of outstanding sightseeing, my four exceptional experiences included:
Marble Arch Caves and Geopark Located in the Fermanagh Lakelands of Northern Ireland the limestone caves are worth the trip. You need be able to do stairs, but no wetsuits required here. Amazing and moderate fitness required.
Cliffs of Moher Cruise We used the Garrihys' Cliffs of Moher Cruise sailing out of Doolin to gain views up to the vertical walls and abrupt edges the cliffs that are where Ireland meets the Atlantic. Facing west it is an amazing location to visit and take in the setting sun as well. You are able to get the best vantage of the cliffs rising out of the water from the boats. Or you can hike the ridges if you prefer.
The Titanic Experience Belfast was out of this world. As the birthplace of the Titanic, from the shipyards of Belfast, the museum is a MUST see. You can easily allow 4 hours for this stop. Book tickets in advance to avoid long waits too.
Glen Keen Farm, in Louisburg, County Mayo As an avid fibre hobbyist, the idea of visiting a working sheep farm was something I was looking forward to. Glen Keen Farm's owners Catherine and Jim offer agro-tourism on this family-owned farm that opens a door to the way of farming in this part of the world. Set against the rolling hills and valleys and the mountains ranges to the south they explain the way of sheep farming. It is here that free-range sheep grazing is on display. As you wind your way through the mountains and along the two-lane roads the mountainsides are dotted with sheep. But keep your eyes open, as the sheep graze from the edge of the roads up to the mountain tops.
In addition to a local farm experience, they offer traditional turf cutting, sheep herding and shearing demonstrations, guided hill walks, famine walks, wool spinning demonstrations and more. The Great Famine of the 1840s devastated the area. Catherine's family is one of the surviving 12 that remained from the village's peak of 108. A glance up to the mountains you can see the "old potato ridges" that still mark the landscape and once provided life to the country.
And my most memorable dining experiences were:
Dinner at Martine's on Quay Street in Galway. Dry aged beef cooked to perfection and a beautiful apple tart for dessert are still in my dreams after a meal at this family-run restaurant that has been operating since 1902. Once you are finished dinner you are steps from the many pubs and music venues where you can enjoy traditional music every evening. And listen closely, you'll hear the Gaelic Irish spoken by many.
Afternoon tea at Dunraven Arms Hotel The pastries created for afternoon tea here are works of art. Located in the village of Adare, which is filled with thatched cottages, Dunraven Arms is considered one of the premier four-star hotels in the country.
And a traditional Irish breakfast most anywhere – beans, fried tomatoes, hashbrowns, black and white pudding, fried eggs and brown soda bread, toast, bacon and sausage.
If you haven't been to Ireland, consider it for one of your adventures.