Italy Fam trip Tuscany and Rome (69 kms and 109,000 steps later) February 2019 (Lisa Bain and Manya Kellou)
Part One – by Lisa Bain
Flights – British Airways via London to Pisa
We flew British Airways with an overnight stay in London to break up the trip. When checking in for our flight we were surprised with an upgrade to Business class so we were able to experience the lie-flat beds. I was torn between staying awake (there were so many good movies to watch) or trying out the lie-flat bed for a good night's sleep. After a nice dinner and a couple of glasses of champagne going to bed was much more appealing.
After getting my bed ready, and into my sleep clothes, snuggled into my nice soft duvet I was asleep in minutes and woke up 6 hours later for breakfast. What a fantastic experience! For once I was able to get a good amount of sleep on a flight. Business class passengers are given a choice breakfast on the plane, or an extra hour sleep and having breakfast in the BA Arrivals Lounge. I would probably take the extra hour of sleep next time I fly business class. We were able to use the Fast Pass lane upon arrival in London when traveling Business class, and this helped us get through customs in minutes. Make sure to ask for the Fast Pass before exiting the plane.
Once through customs, we collected our bags and took the transfer train to Terminal 5 where our hotel was located. The Sofitel Terminal 5 is a fantastic hotel, check in was friendly and quick, our room was clean and modern with very comfortable beds. Once we were settled we decided to take a wander into the terminal to check out some dining options. We also toured around the hotel and found that they had a beautiful spa on the bottom level next to the gym. For 12.50GBP you could use the huge whirlpool, steam and sauna - a very nice treat after a long flight. In the morning we were able to check in for our onwards British Airways flight as they had a check-in counter in the lobby of the hotel.
Day 1 – Pisa and Viareggio
From London to Pisa we were in Economy class in the exit rows, lots of leg room and it was a very quick flight only 1.5 hours. British Airways charges for everything on these inter-Europe flights including water, they are using Marks and Spencer for the inflight food purchases with the form of payment being a credit card or your Avios points. All the airport have filter water machines if you are traveling with your own water bottle, remember to fill it after security.
Once in Pisa we cleared Italian customs and collected our bags. The airport was small and efficient. When we left the baggage claim our driver was waiting for us with Federica, the owner of TFL, the tour company that invited us to Italy, ready with a surprise tour of Pisa before heading to Tuscany!
Pisa – It is not just about the leaning tower, even though you will find most of the tourists there taking selfies holding up the tower with one finger. Pisa is a university town, with a lot of history and charm, cute squares with beautiful buildings.
After touring around Pisa we were off to Viareggio, a beach town in Tuscany and our home for the next four nights while we explore the region. It was a quick drive to Viareggio from Pisa only 25 minutes. Once we arrived we saw our beautiful hotel.
Grand Hotel Principe de Piemonte – 4-star off season/5-star on season, as the Michelin Star restaurant is only open on season. When we arrived at the hotel our room wasn't yet ready, but as it was Sunday the hotel offered us a brunch while we waited - a beautiful brunch set out with all the regional dishes. The eating had begun! After brunch, we were able to check into our beautiful room they had put us in a 1 bedroom suite with views of the beaches and 2 balconies.
Once we settled we were off for a walk on the beach across the street, as the weather was unusually warm for our end of February trip – up to 19C-28C each day. It was usually chilly in the morning but warming up quickly in the afternoon. Being off-season, I could only imagine how busy it would be during the summer with all the beautiful beach clubs and restaurants along the boardwalk. Shops lined the street as well with anything from Benneton to Gucci.
Viareggio, a seaside city in Tuscany, is known for its Carnival. Since we arrived on Sunday we just missed it, but the city comes alive during Carnival, as almost everyone dresses up to enjoy the festivities. They have been making floats for this parade since the end of the 19th century. The floats are representing Italian and international politics and other current events, often in satire form. If you are planning to go for Carnival you should book well in advance. In the afternoon I took advantage of the rooftop pool, a maximum 3 feet depth with a lot of jets and nice warm water. The view was amazing especially as the sun started to set. We had a nice welcome dinner at the hotel, then off to bed.
Day 2 - Cinque Terre
We were picked up at 9 am for our day trip to Cinque Terre (5 villages) the drive was beautiful through the village and onto the highway. We travelled through Carrara, where all the marble comes from, and if you look up towards the mountains what looks like snow is actually marble. They still mine for the Carrara Marble and it is shipped all over the world.
Cinque Terre is a string of centuries-old seaside villages on the rugged Italian Riviera coastline. In each of the 5 towns, colourful houses and vineyards cling to steep terraces, harbours are filled with fishing boats and trattorias turn out seafood specialities along with the Liguria region's famous sauce, pesto. The Sentiero Azzurro cliff-side hiking trail links the villages and offers sweeping sea vistas.
We walked each village, taking in the abundant beauty along the way. Our hike ended in Monterosso, with a stroll through the new village into the old village and a beautiful lunch in a local restaurant. After lunch, we had more time to explore the area and work our way back to the minibuses for the long windy ride back through the mountains to Viareggio. We had some time to explore Viareggio before heading out to dinner at a local seafood restaurant on the beach.
Day 3 - Pisa countryside and Lucca
Today we were picked up for our truffle hunting adventure then our afternoon walking tour in Lucca. We drove for about 30 minutes through the beautiful countryside until we arrive at the Savini-Tartufi Family truffle experience. They have been truffle hunting since the 1920's. You arrive at a building much like a winery would have, but instead of wine tasting, you go on tour and then have an unforgettable lunch of truffles, truffles, and more truffles. It's a short drive over to the private forest in the Land Rover Defender with the guides and the specially trained dogs. Once you get there the dogs start to do their search. You wander through the beautiful forest, following the dogs until they start to dig, when they do this you know they have located a truffle. This was such a fun way to spend the morning, we were lucky and found 5 truffles on our outing. The dogs were simply adorable.
Once the hunt is done you go back to the beautiful dining room to experience the truffle, starting with a charcuterie plate showing the different uses of truffles in cheese, honey, meats and in spreads. Next, you are served a beautiful homemade pasta with shaved truffles and cream sauce. After that is done, you get a perfectly boiled egg with cream and shaved truffles on it ending the meal with dark chocolate coated truffle ice cream bar. All of this is accompanied by a beautiful wine made by a local vintner. After consuming all that delicious food you have a chance to purchase some truffle products to bring home with you.
After this long leisurely lunch, we went back to our beautiful Mercedes Bus and headed to Lucca for a tour of this renaissance walled city. Lucca was my favourite city, completely charming with its historic centre and cobblestone streets. Puccini, the great opera composer, was born in Lucca. The streets are filled with small shops, restaurants, churches and museums. We ended our day in a local restaurant learning how to make a traditional meal of fresh tomato sauce, chicken cacciatore and traditional tiramisu. Once the lesson was done we were seated and ate all the food we had made. Lucca is a must-see when in Tuscany.
Day 4 – Florence
On this day we headed to Florence, the longest drive of our week, and only 50 minutes away. Once we arrived in Florence we met our guide, Luca, for our Art and Culinary tour. We made our way through the streets of Florence to the Galleria dell'Accademia for our viewing of David. This sculpture is one of Michelangelo's best-known works of art and it is amazing. After our tour of the Accademia, we were off on our walking tour experiencing the sites and tastes of Florence. Our first stop for an espresso and a pastry was Caffe Gilli. Opened in 1773 by a Swiss family, this pastry shop is a must. If you want to be like a local have your espresso and pastry at the bar, you will also pay almost half the price, as tables are at a premium. Shopping in Florence is abundant from the small local shops to the major brands like Gucci and Louis Vuitton there is something for everyone.
After a couple more stops we headed to the Hotel Brunelleschi in the heart of Florence set in a converted church dating back to the 6th century. This hotel offers various types of rooms and one of the best restaurants in Florence, Osteria Pagliazza, serving traditional Tuscan dishes from this region of Tuscany. After our lunch, we had a tour of the rooms and the museum the hotel has in the basement where they have found archaeological finds dating back as far as 541AD.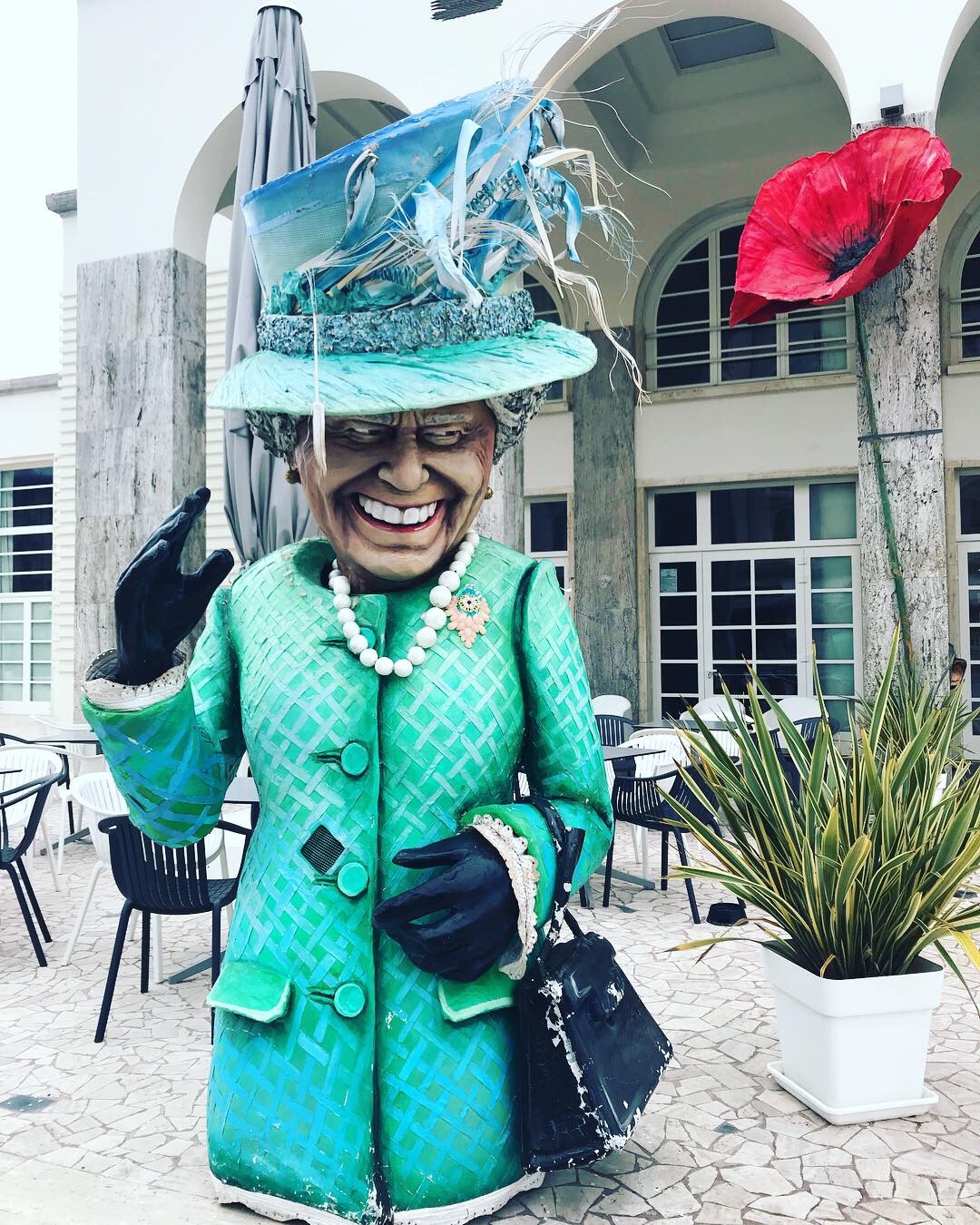 And then off we headed to Rome, with more to come from Manya in next month's fam report.